Samui Villas: Investment market and potential returns
---
A standard villa in Koh Samui consists of three bedrooms on a hillside with a sea view, infinity pool and covers an area of about 300 square meters. The price is generally about three or four million Chinese Yuan. If it is a beachfront villa, you could expect the price to be doubled. As the land size or livable area increases, the price will also increase. The land resources of Koh Samui are becoming scarcer, so we expect prices to increase over time too.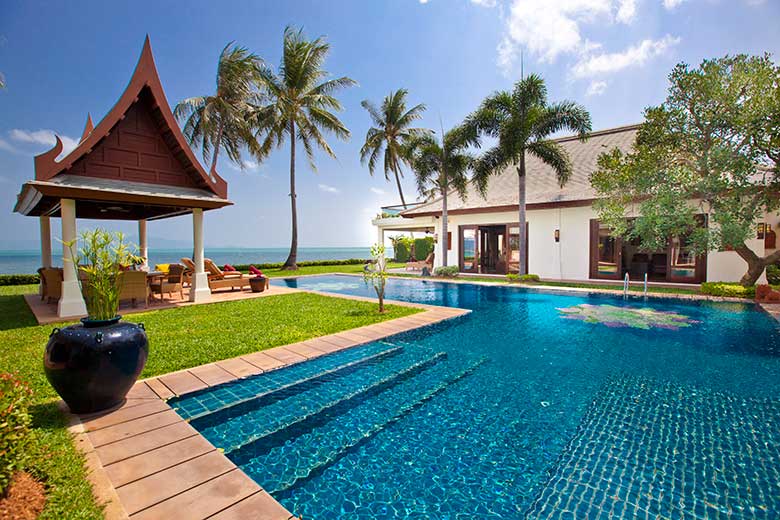 Managing a rental villa
There are two ways a villa could be managed: by a professional management company, or by the developer.
Managed by a professional villa management company
Most villa owners are not actually based in Koh Samui, and do not want to spend the time and effort to manage their villa alone. Villa owners based overseas regularly trust a professional management company to manage their property. The owner normally needs to pay a fixed fee per property to the management company (and the management company will transfer some of those fees to a reservation website or travel agent).
Managed by the developer of the property
In many of the villa projects in Koh Samui, the developer themselves will manage the process for after-sales rental to tenants, and the cost should be quite similar to a management company. Before buying a villa, buyers are normally in constant contact with the developer, and so the transition from purchase to rental management can be more seamless if the developer offers this service. Normally the developers will have their own motivations to try and find a tenant or holiday-makers for the property, as it will attract other buyers to the project.
Occupancy rate
There are many factors that affect rental income. In the final analysis, depending on the market sector, excellent marketing can make an ordinary villa very popular. Villas with low occupancy rates will also have a return of around 5% per year, and villas with high occupancy rates will have a return of 10%-20%.